LA Police Gear Atlas™ 24 Hour Tactical Backpack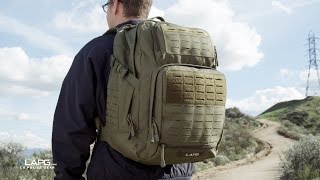 Description
Real men go wherever they want. If you've got a tactical day pack, then nothing can keep you from doing as you please. There's tons of storage room and other great features in this tactical day bag:
Dual hydration pack compatible with ports
Loop lined interior to attach hook backed items
900D Polyester with PVC Coating
Subtle, functional laser cut MOLLE webbing
Can integrate with separate Tactical Chest Pack Attachment
Detail
Go All Day with a Tactical Day Pack
This gear ain't for boy scouts. This is a serious tactical day bag. It's tough as nails, so it can handle all kinds of terrain and climates. But with that durability, you don't sacrifice the comfort you need when you're hauling around survival gear. This tactical day packworks as well on an urban mission as it does for a hike in the woods.
Atlas Backpack Versions:
Atlas 24 Hour Backpack (this one)
Features
Built with 900D Polyester and PVC Coating
LAPG Shoulder Strap System integrates with separate Tactical Chest Pack Attachment
Hydration ports on both shoulders
Accessory compartment lined with soft but durable fleece
Interior is loop-lined for attaching LAPG pouches or other hook backed items
Overall Dimensions: 20" height x 16" width x 10" depth
Volume: 3200 cubic inches
Weight: 4.2 pounds
Last but definitely not least, we have added a new feature to the straps of the LA Police Gear Atlas™ line that allows you to buckle in our LAPG Tactical Chest Pack Attachment directly to your tactical day pack. The Chest Pack is a versatile carrying system that basically gives the storage of another backpack. Great for CCW, small items, or anything you can think of!
*The current inventory of Grey Atlas 24 Hour Backpacks do not support attachment to the LAPG Tactical Chest Pack. This issue will be resolved and we apologize for the inconvenience*
True Tactical Gear Passion
We sell great products like this tactical day pack because we know from experience what goes into a piece of great tactical gear. We're former law enforcement officers, so we've seen (and worn) it all. We know that your tactical day bag and everyday gear needs to be ready for action without being so uncomfortable that it distracts you from your mission. And while we offer top brands at competitive prices, we know that saving a buck or two doesn't hurt. Especially on a cop's salary!
That's why we sell our own in-house brand. It saves you money without sacrificing quality. With all that, plus our top of the line customer service, buying your tactical day pack — and all your other gear — from LA Police Gear is a no-brainer.
WARNING: This product may contain chemicals known to the State of California to cause cancer and birth defects or other reproductive harm. For more information, go to
www.P65Warnings.ca.gov
.
Customers who bought this also bought
---