LA Police Gear Backup Light Weight Flannel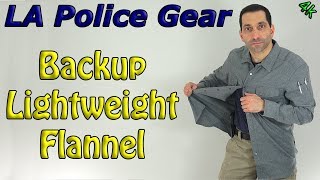 Item Code:
BACKUP-FLANNEL
Description
100% Preshrunk Cotton Fabric
Dual Front Chest Pockets
Snap Button Closure with an LAPG Branded snap button
Pen Pockets on left sleeve
Perfect for Concealed Carry Wear
Detail
Want the perfect flannel for Spring? Like always, we've got you! The LA Police Gear Backup LW Flannel features a soft feel and maximum comfort that will keep you from wanting to take it off! It is perfect for concealed carry or just normal wear.
This also makes a great Concealed Carry Flannel.
Features:
100% Preshrunk Cotton Fabric
Dual Front Chest Pockets
Snap Button Closure with an LAPG Branded snap button
Pen Pockets on left sleeve
Perfect for Concealed Carry Wear
Soft, comfortable, and lightweight
Fabric weight: 5.5oz
Backup Lightweight
Flannel

Atlas Long Sleeve
Flannel

Long Sleeve Tactical
Field Shirt 2.0

Short Sleeve Tactical
Field Shirt 2.0

Mid Weight Vanguard
Flannel

Fabric
Material

100% Preshrunk Cotton
Fabric

55% Cotton/45% Rayon
Preshrunk Fabric

Lightweight 55%
Cotton/45% Polyester
RipStop

Lightweight 55%
Cotton/45% Polyester
RipStop

100% Preshrunk Cotton
Fabric

Fit Type

Regular - Perfect for CCW

Regular - Perfect for CCW

Regular

Regular

Regular

Features

Dual Front Chest Pockets,
Snap Button Closure With
An LAPG Branded Snap
Button, Pen Pockets On
Left Sleeve, Perfect For
Concealed Carry Wear,
Soft, Comfortable, And
Lightweight

Two Front Chest Pockets,
Front Right Pocket Features
Hidden Vertcal Zipper,
Front Left Pocket Features
Hidden Hook And Loop
Pocket, Snap Buttons For
CCW And Quick Access,
Sleeves And Buttons
Designed For Rolling,
Adjustable Wrist Cuffs

Dual Chest Pockets, Two
Bottom Buttons Are False
Break-Aways & Pen
Pockets On Left Sleeve

Dual Chest Pockets, Two
Bottom Buttons Are False
Break-Aways & Pen
Pockets On Left Sleeve

Dual Front Chest Pockets,
Snap Button Closure, Pen
Pockets On Left Sleeve,
Perfect For CCW, Soft,
Comfortable, &
Lightweight

Colors
Available

Battalion Blue, Bunker Blue,
Covert Black, Fugitive Green
and Smokescreen Grey

Carbon Grey, Cinder Grey,
Ember Red, Steel Blue and
Terrain Olive

Black, Grey, Khaki, Navy and
OD Green

Black, Grey, Khaki, Navy and
OD Green

Ambush Green, Battleship
Grey, Bravo Black,
Gunpowder Grey and
Outpost Blue
Customers who bought this also bought
---