SOG Sync II Multi-Tool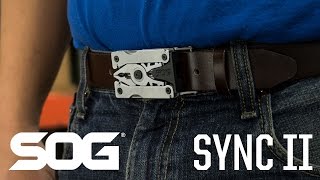 Description
Closed Length: 3.1"
Product Weight: 5.00 oz.
Finish: Bead Blasted
Tool Count: 11
Blade Steel Type: 5Cr13Mov
Detail
The SOG Sync II is part of the Sync multi-tool series which are designed to easily be worn as a belt buckle or simply clipped on a pack strap or boot. Sync I fits belts up to 1-3/8". Thicker belts up to 1-3/4" are compatible with the Sync II. While it can be conveniently detached from the base with one hand, it stays locked and secure under active movement so your multi-tool is there with you anywhere you go. Constructed with 5CR15MOV stainless steel providing good sharpening ability, edge retention, and high corrosion resistance. They come equipped with a selection of frequently used components like pliers, gripper, soft wire cutter, crimpers, phillips screwdriver, bottle opener (folded position), scissors, medium flathead screwdriver, 3-sided file, small flathead screwdriver, straight blade, and ruler. The SOG Sync II is available at a moment's notice to save the day anytime and anywhere.

Specifications:
Closed Length: 3.1"
Product Weight: 5.00 oz.
UPC: 729857006415
Product Type: Multi-Tool
Country Of Origin: China
Finish: Bead Blasted
Tool Count: 11
Blade Steel Type: 5Cr13Mov
Lock Blades: Yes
Lock Tools: Yes
3-Sided File: Yes
Bolt Grip Channel: Yes
Medium Flat Screwdriver: Yes
Needle Nose Pliers: Yes
Philips Screwdriver: Yes
Ruler: Yes
Scissors: Yes
Small Flat Screwdriver: Yes
Straight Edge Blade: Yes
Wire Crimper: Yes
Soft Wire Cutter: Yes
WARNING: This product may contain chemicals known to the State of California to cause cancer and birth defects or other reproductive harm. For more information, go to
www.P65Warnings.ca.gov
.