SOG Baton Q4 Multi-Tool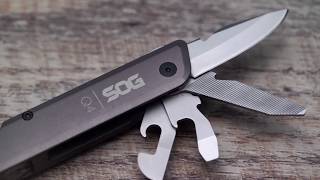 Description
Blade (Straight)
Wire Cutter (Soft)
Flat Screwdriver (Medium)
Pliers
Hex Bit Driver (Magnetic, 1/4", Ratchet)
Detail
The Baton Q4 is a modification and amplification of the Q3, this multi-tool is expandable and adaptable and armed with next-level necessities for wilderness and urban ventures. Equiped with 10 tools and a 12pc Hex Bit Kit.

Features:
Closed Length: 7"
Product Weight: 6.0 oz.
UPC: 729857006620
Product Type: Multi-Tool
Country Of Origin: China
Product Family: Baton
Finish: Black & Grey Anodized
Tool Count: 10
Blade Steel Type: 5Cr15Mov
Lock Blades: Yes
Lock Tools: Yes
3-Sided File: Yes
Bolt Grip Channel: Yes
Bottle Opener: Yes
Can Opener: Yes
Medium Flat Screwdriver: Yes
Needle Nose Pliers: Yes
Small Flat Screwdriver: Yes
Straight Edge Blade: Yes
Magnetic Ratchet 1/4" Hex Driver: Yes
Soft Wire Cutter: Yes
12-Piece Hex Bit Kit: Yes
Tools:
1: Blade (Straight)
2: Bolt/Nut Gripper
3: Bottle Opener
4: Can Opener
5: File (3-Sided)
6: Flat Screwdriver (Medium)
7: Flat Screwdriver (Small)
8: Hex Bit Driver (Magnetic, 1/4", Ratchet)
9: Pliers
10: Wire Cutter (Soft)
WARNING: This product may contain chemicals known to the State of California to cause cancer and birth defects or other reproductive harm. For more information, go to
www.P65Warnings.ca.gov
.