5.11 Tactical Men's Taclite Pro Pant 74273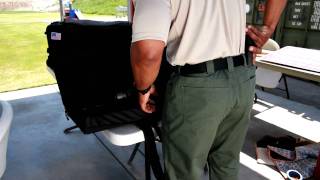 Description
YKK Zippers
Teflon Finish
8 Total Pockets
Knee Pad Pockets
Action Waistband
Gussetted Construction
Double-Reinforced Seat & Knees
Detail
5.11 Tactical Taclite Pro Pant - All but invincible, made from 5.11's Taclite ripstop fabric, the Taclite Pro Pants are lightweight, durable, and engineered to provide outstanding comfort and performance in harsh field conditions, professional, recreational, and otherwise. Bartacking, double-reinforcement at the seat and knees, and a Teflon finish ensure you're ready for the running, kneeling, crawling, and hustling your work demands. Seven pockets, sized for tactical use, enhance utility on the job and at the range. Few things in life are this reliable. Or this useful.
Features:
Relaxed fit
Triple-stitching
Action waistband
Hip-mounted D-ring
YKK zippers and Prym snaps
Lightweight, durable Taclite fabric
Extra pockets sized for tactical use
Bartacking at major seams and stress points
Gussetted construction for flexibility and strength
8 total pockets including strap-and-slash seat pockets
Double-reinforced seat and knees (Internal knee pad ready)
Teflon finish resists water, dirt, and stains for longer wear
65% polyester/35% cotton ripstop fabric, 6.2-oz.,Teflon finish
Imported
5.11 Tactical Series has done it again. The Taclite Pro Pant is ready for wear and we know this one will be a hit. Fashioned after our traditional 5.11 Tactical pant, the new 5.11 Taclite Pro Pant features a lightweight poly-cotton ripsotp fabric and a fully Gusseted crotch that allows for full range of movement. These pants have pockets located for easy access to all of your gear. An external knife pocket on the right front side gives you easy access to a 5.11 Tactical Tarani Knife. Two cargo pockets are located on both thighs and a magazine/cell phone pocket is located over the left cargo pocket for quick access with your off-hand. The magazine and new knife pocket are reinforced with 100% Cordura nylon. We have kept our traditional slash pockets in the rear along with the web strap found on our 5.11 Tactical Pants.Cops have been waiting patiently for a lightweight version of our Classic 5.11 Pant and the 5.11 TacLite Pro Pant fits the bill. Made of lightweight 65% polyester and 35% non-fading polycotton ripstop, you have a pant that is extremely functional and maintains a neat, clean and professional look. We've also treated the pants with HT Teflon Wear Resistant Finish for stain and soil resistance to maintain that good look no matter what the daily activity.The belt loops are thick enough to support a large belt to carry the weight of a sidearm, cuffs or other equipment. We use only YKK zippers, Prym snaps and Horn buttons so that you can rest assured that these Taclite Pro Pant will last. We've also included our traditional clip loop on the front of the 5.11 Taclite Pro Pant for our great traditional 5.11 Tactical look. If you are looking for full line of 5.11 Tactical you can find it here.
NOTE FROM LAPG STAFF - We have tried on samples of these pants and we can honestly tell you if you loved the 5.11 Original Tactical pant YOU WILL LOVE THE 5.11 TACLITE PRO PANT! The new fast access slit pocket allows for fast access to items that do not need a covered pocket. The lightweight fabric breaths more easy than the heavier 5.11 Original style cotton fabric which sometimes felt heavy or hot on the legs. Our favorite feature is the new Gusseted crotch. It really does allow for more comfort in the crotch area and for far better range of motion for your legs. Overall these pants get an A+.
Other Reviews: Great Pants!
"My first pair of 5.11 pants! Bought these POLYESTER/COTTON pants about 3-4 months ago and wear them as much as I can. The lightweight material makes the pants very comfortable as it doesn't weigh you down like heavyweight cotton does. The ripstop blend is pretty durable and so far no visible wear. The knees feature an extra layer of material for added durability and also has a pouch for extra knee pads. The stitching all around is solid and precise. There were no extraneous loose threads that had to be cut. The buckle seems to be fairly sturdy and the adjustments are solid (aka, doesn't slip when you buckle down...I had a cheaper belt that would always work loose).Overall an excellent buy! My only complaint would be that the pants seem to be a bit baggy when compared to a same sized pair of jeans from a retail store, but for me, I'd rather have the extra space for greater freedom of movement."
---------------------------------------------------------------------
Perfect Pant for Hot Weather Work!
"For those of us that are either required to wear a pant, or simply choose to wear a pant, this is by far the best choice on the market for tactical hot weather gear. I wear these pants every day I am on duty, and usually when I am not on duty. These pants are light and cool enough to use in the Texas heat, and yet professional enough to wear in any situation. I have yet to wrinkle these pants, and the color has stayed just as vibrant and good looking as the day I opened the package. Excellent choice for casual, range, or office wear. Probably just as good a choice for uniform wear if your department allows it."
Other great pants are also in stock like the 5.11 Tactical Stryke Pant with Flex-Tac. Update - The 5.11 Tactical Apex Pant is now a best seller and is highly ranked among confirmed buyers.
Customers who bought this also bought
---