LA Police Gear Women's Operator Tactical Pants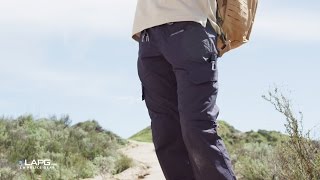 Description
When you're in the field, it's important to have women's tactical cargo pants you feel confident in. Designed specifically for a woman's features and frame, our women's tactical pants with stretch are comfortable and functional, so you can effectively perform while you're on duty without limitations. Plus, these LA Police Gear bottoms come with a variety of features you'll love:
(8) Pockets
Elastic waistband
Dual front slit pockets
Slanted cargo pocket flaps for seated access
Fade-resistant fabric with Teflon Shield and Fabric Protector
Detail
Functional Women's Tactical Cargo Pants
The whole point of tactical clothing is comfort and functionality, and our women's tactical pants with stretch go above and beyond in both areas. Made with ultra-durable material that stretches and works with your body, these pants can adapt to any situation and help you perform your best.
Features
Stretchy Waistband
Made of 65% Polyester/35% Cotton Rip-Stop Fabric
Item Weight: 7.5 oz.
Work with most 1.5" and 1.75" belts (sold separately).
Dual pockets in the front with slit
Cargo pocket flaps for seated access
Gusseted crotch
Double knee fabric
YKK Zipper fly
Made with fade-resistant fabric
(8) Pockets total
Pocket Configuration
(2) Front Pockets with added reinforcement for your knife, tool, or light
(2) Front Slip Pockets (for phones, mags, EDC items, etc.)
(2) Hook & loop large cargo pockets with top flap pass through for quick access

Includes one D-Ring per cargo pocket

(2) Rear Pockets (Traditional flap design with [2] button closure for security)
Shop More from LAPG Today!
LA Police Gear offers a complete line of women's tactical gear and clothing. We take pride in serving law enforcement, first responders, firefighters, and more with the tactical gear you can depend on. Whether you need women's tactical cargo pants, boots, or tops, you can count on LAPG to have what you need. Sign up for our newsletter to stay up-to-date with the latest from our team!
Women's Operator Pant

Women's Stretch Ops Pant

Women's BFE Stretch Pant

Elastic
Waistband

✔

Number
Of Pockets

8

7

11

Fabric
Weight

7.5 oz.

7.65 oz.

8.8 oz.

Fabric
Material

65% Polyester/35% Cotton Rip-Stop Fabric

65% Polyester/35% Cotton Rip-Stop Fabric

67% Polyester/33% Cotton Fabric

Fit Type

Comfortable Stretch Provides Flexibility
And Movement Tailored For Women

Flexible Movement And Comfort Tailored For Women

Athletic Fit – More Modern, Less Baggy

Features

Dual Front Slit Pockets, Slanted Cargo Pocket
Flaps, Fade Resistant Fabric With Teflon Shield
And Fabric Protector, YKK Zipper Fly

Notched Front Pockets, Articulating Knees,
YKK Zipper Fly

Classic Tac-Stud Button Waist With Brass Locking
YKK Zipper, Excellent Option For CCW, High End
Stitching With Bar Tacks In Key Areas, Gusseted
Crotch, 7 Total Belt Loops (Rear Center Has
Hidden Handcuff Key Pocket)

Colors
Available

Black, Charcoal, Coyote, Khaki, Navy, OD Green,
Ranger Green

Black, Charcoal, Coyote, Khaki, Navy, OD Green,
Ranger Green

Black, Charcoal, Coyote, Dark Navy, Khaki,
OD Green