LA Police Gear Terrain Flex Straight Fit Jeans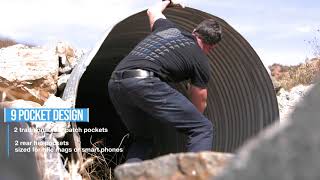 Description
Medium Wash - Perfect for casual or dressy settings
Dark Wash - Clean, professional look
Straight Fit - Classic fit in waist and thighs, straight leg past the knee
13 oz. stretch denim
Medium Wash - 98% Cotton, 2% Spandex
Dark Wash - 73% Cotton, 25% Polyester, & 2% Spandex
9 pocket design
Roomy stretch waist allows for comfortable IWB carry
Detail
No compromises

The Terrain Flex Jeans from LA Police Gear are the result of years of development, samples, blood, samples, sweat, tears, and more samples. We strove to bring a truly high-end jean that doesn't compromise on fit, quality, features, and price. This tactical jean has all the features you'd expect – an amazing stretch fabric (that doesn't look like it), rear hip pockets, a hidden handcuff key pocket, hidden knife clip reinforcements, and high-quality zippers, buttons, and stitching.

Straight Fit, Stretch Fabric

The Terrain Flex Straight Fit Jeans are the perfect balance between a modern and classic jean. The medium wash has just the right amount of distressing to make these jeans perfect for casual or more dressy settings. For the fabric, we added in just 2% of spandex to give it that flexibility you need without sacrificing any looks. The Terrain Flex Straight Fit Jeans in Dark Wash have an amazingly stretchy fabric that looks clean, performs well, and can be dressed up or down. We were very careful to add just the right amount of stretch so they don't look like traditional stretchy denim. The straight fit is the perfect balance of a flattering rise and fit through the waist and thighs, with a straight leg all the way down past the knee. Our jeans have a roomy waist thanks to the stretch fabric, making them a great choice for concealed carry.

Multiple Options To Choose From

Our Terrain Flex Tactical Jean is also available in Slim Fit & in a Pant Version.
9 Pocket Configuration:
2 front pockets with internal hidden clip reinforcement
2 front "watch" pockets modified to fit pistol mags
2 traditional rear patch pockets
2 rear hip pockets sized for rifle mags or smart phones
1 hidden handcuff key pocket (in rear center belt loop)
Features:
Medium Wash – Perfect for casual or dressy settings
Dark Wash – Clean, professional look
Straight Fit – Classic fit in waist and thighs, straight leg past the knee
Medium Wash, Vintage Wash, Charcoal, & Black fabric composition is 13 oz. stretch denim (98% Cotton, 2% Spandex)
Dark Wash fabric composition is 13 oz. stretch denim (73% Cotton, 25% Polyester, & 2% Spandex)
Prewashed to minimize shrinking and for natural feel and appearance
Classic button waist with brass locking YKK zipper
Reinforced, boot-friendly double heel fabric
High end stitching with bar tacks in key areas
9 pocket design (see above for details)
Deep Dyed

To maintain the deep rich color of this item, please follow these care instructions:
Wash before wearing.
The dye used on this item may rub off on light colored fabric or upholstery.
To prevent color loss, always wash separately in cold water.
Terrain Flex Straight Fit Pant

Terrain Flex Chino Pant

Terrain Flex Straight Fit Jean

Terrain Flex Straight Fit Jean

Terrain Flex Slim Fit Jean

Number
Of Pockets

9

8

9

9

9

Fabric
Weight

11 oz.

9 oz.

13 oz.

13 oz.

13 oz.

Fabric
Material

98% Cotton/2% Spandex

69.5% Polyester/30.5% Cotton Chino Stretch Fabric

98% Cotton/2% Spandex

Medium/Vintage Wash: 98% Cotton/2% Spandex
Dark Wash: 73% Cotton/25% Polyester/& 2% Spandex

Medium/Vintage Wash: 98% Cotton/2% Spandex
Dark Wash: 73% Cotton/25% Polyester/& 2% Spandex

Fit Type

Straight Fit - Classic Fit In Waist And Thighs, Straight Leg Past The Knee

Straight Fit - Classic Fit In Waist And Thighs, Straight Leg Past The Knee

Straight Fit - Classic Fit In Waist And Thighs, Straight Leg Past The Knee

Straight Fit - Classic Fit In Waist And Thighs, Straight Leg Past The Knee

Roomy And Relaxed - Slightly Slimmer Leg

Features

Prewashed To Minimize Shrinking, Classic Button Waist With Brass Locking YKK Zipper, Reinforced, Boot-Friendly Double Heel Fabric, Hidden Handcuff Key Pocket

Classic Tac-Stud Button Waist With Brass Locking YKK Zipper, Triple Stitching And Bar Tacks In Key Stress Areas, Hidden Handcuff Key Pocket

Prewashed To Minimize Shrinking, Classic Button Waist With Brass Locking YKK Zipper, Reinforced, Boot-Friendly Double Heel Fabric, Hidden Handcuff Key Pocket

Prewashed To Minimize Shrinking, Classic Button Waist With Brass Locking YKK Zipper, Reinforced, Boot-Friendly Double Heel Fabric, Hidden Handcuff Key Pocket

Prewashed To Minimize Shrinking, Classic Button Waist With Brass Locking YKK Zipper, Reinforced, Boot-Friendly Double Heel Fabric, Hidden Handcuff Key Pocket

Colors
Available

Black, Coyote, OD Green

Black, Grey, Khaki, Midnight

Black, Charcoal

Medium, Dark, And Vintage Washes

Medium, Dark, And Vintage Washes
Customers who bought this also bought
---