LAPG Men's Basic Operator Pant w/ Elastic Waistband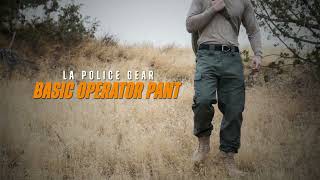 Description
LAPG offers men's pants with an elastic waist and belt loops, offering multiple features that can be critical to keeping your legs protected and providing you the support you need to get the most out of your stretch band pants.
8 Pocket Design
65% Polyester and 35% Cotton Rip-Stop Fabric
Gusseted Crotch and Elastic Waistband
YKK Zipper Fly and Tac Stud Closure
Teflon Treatment — offers both water and stain resistance for your stretch band pants
Large Cargo Pockets
Double Knee Fabric
Detail
Discover Men's Pants With an Elastic Waist and Belt Loops That Took the Market by Storm
With over 20 years experience in law enforcement and the military, LA Police Gear knows what you need. After countless hours at the drawing board, customer surveys, endless piles of samples, and tons of revisions LAPG is proud to present the Basic Operator Tactical Pants! These tactical pants with an elastic waistband are our original pant design that offers greater comfort, maneuverability, and more bang for your buck — and they're absolutely loaded with features.
8 Total Pockets
(2) Front Pockets — Added reinforcement for your knife, tool, or light
(2) Front Slip Pockets — Great option for phones, mags, EDC items, etc.
(2) Hook & loop large cargo pockets — Top flap pass through for quick access

+ One D-Ring per cargo pocket

(2) Rear Pockets — Traditional flap design with (2) button closure for security
Features of These Iconic Men's Pants With an Elastic Waist and Belt Loops:
65% Polyester/35% Cotton Rip-Stop Fabric
Fabric Weight: 7.5 oz.
These stretch band pants can accommodate typical 1.5" and 1.75" belts (sold separately)
Fade Resistant Fabric
Gusseted Crotch
Elastic Waistband
Double Knee Fabric
Airport Friendly, Heavy Duty Hardware
Double Seat
Dual Front D Rings
Built In Blousing Strings
Slanted Cargo Pocket Flaps For Seated Access
Teflon treatment — water and stain resistance
YKK Zipper Fly
Brass Tac-Stud closure — extremely reliable and tough
Cargo pocket big enough to fit an iPad Mini
Shop LAPG Originals and Beyond at LA Police Gear
Finding the right clothing for your day-to-day operations shouldn't be an impossible task. That goes beyond just tactical men's pants with an elastic waist and belt loops. Here at LA Police Gear, we offer a wide range of high-quality gear at affordable prices from top brands, including products that we've developed. Discover items like LAPG operator tactical polos, heavy-duty boots, and even shooting gloves in our collection of tactical products.
Shop now to find the men's pants with an elastic waist and belt loops, backpacks, and more that you want. Sign up for our newsletter to stay on top of new releases and developments. Contact us to take advantage of our industry-leading customer service if you have any questions!
Sizing Note - These pants measure at the listed size when the elastic is fully stretched out.
| | | | | | | | | |
| --- | --- | --- | --- | --- | --- | --- | --- | --- |
| | | | | | | | | |
| | Basic Operator Pant | Operator Tactical Pant | Urban Ops Pant | Atlas Pant | Battle Rattle Pant | BFE Pant | Rip-Stop Mil-Spec BDU Pant | Stretch EMS Pant |
| Elastic Waistband | ✔ | ✔ | ✔ | ✔ | ✔ | ✘ | ✘ | ✔ |
| Number Of Pockets | 8 | 10 | 7 | 10 | 12 | 10 | 6 | 19 |
| Fabric Weight | 7.5 oz. | 7.2 oz. | 7.5 oz. | 7.65 oz. | 8.1 oz. | 8.8 oz. | 7.5 oz. | 8.1 oz. |
| Fabric Material | 65% Polyester/35% Cotton Rip-Stop Fabric | 65% Polyester/35% Cotton Rip-Stop Fabric | 65% Polyester/35% Cotton Rip-Stop Fabric | 65% Polyester/35% Cotton Rip-Stop Stretch Fabric | 65% Polyester/35% Cotton Mechanical Rip-Stop Stretch Fabric | 67% Polyester/33% Cotton Mechanical Stretch Fabric | 65% Polyester/35% Cotton Rip-Stop Fabric | 65% Polyester/35% Cotton Mechanical Rip-Stop Stretch Fabric |
| Fit Type | Roomy and Relaxed | Roomy and Relaxed | Slim in the Leg and Flexible | Athletic Fit - More Modern, Less Baggy | Athletic Fit - More Modern, Less Baggy | Athletic Fit - More Modern, Less Baggy | Lightweight, Original Cargo Fit | Athletic Fit - More Modern, Less Baggy |
| Features | 1.75" Belt Loop, Airport Friendly YKK Zipper. | 1.75" Belt Loop, Airport Friendly YKK Zipper, Lower Leg Pockets | 2" Belt Loop, Locking Brass YKK Zipper | 2.25" Belt Loop, Metallic YKK Zipper, Stretch Fabric | Classic Tac-Stud Button Waist with Brass Locking YKK Zipper, Interior Knee Pad Pockets, High End Stitching with Bartacks in Key Areas, Gusseted Crotch, 7 Total Belt Loops | Classic Tac-Stud Button Waist with Brass Locking YKK Zipper, Excellent Option for CCW, High End Stitching with Bartacks in Key Areas, Gusseted Crotch, 7 Total Belt Loops, Rear Center Has Hidden Handcuff Key Pocket | 2.25" Belt Loop, Button Fly (4 Button), TSA and Airport Friendly, Nylon Drawstring, Leg Ties, and Belt Loops | 2.25" Belt Loop, 7 Belt Loops, YKK Zipper, Back Up Button For Extra Security, Box Stitching On Hook & Loop Pieces, Double Stitching On Front Rise, Seat Seams, Fly, And All Pockets |
| Colors Available | Black, Boulder, Charcoal, Coyote, Grey, Khaki, Navy, OD Green, Ranger Green, Sierra | Black, Charcoal, Coyote, Khaki, Navy, OD Green, Sierra | Black, Boulder, Brown, Charcoal, Coyote, Grey, Khaki, Navy, OD Green, Ranger Green, Sierra | Black, Boulder, Charcoal, Coyote, Grey, Khaki, Navy, OD Green, Ranger Green, Sierra, Slate Brown | Black, Charcoal, Coyote, Khaki, Navy, OD Green | Black, Charcoal, Coyote, Navy, Khaki, Multicam, OD Green, Sierra | Black, Brown, Charcoal, Coyote, Khaki, Navy, OD Green | Black, Navy |
Customers who bought this also bought
---