5.11 Tactical Men's ABR Pro Pant 74512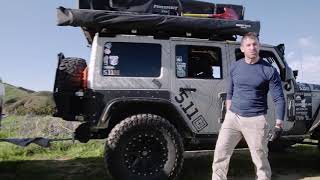 Description
Straight fit
Knee pad ready
9 pocket design
Reinforced seat and knees
Spill and stain resistant
Detail
The 5.11 Tactical ABR Pro Pant is an updated tactical pant that features a modern, straight fit as well as a proprietary Flexlite Rip-stop fabric that is highly durable and allows for extreme mobility in all situations. Similar to the 5.11 Apex or 5.11 Stryke pants. With 9 pockets and a redesigned rear pocket you'll be able to carry all your every day carry essentials. Whether it's for work or the range, the ABR Pro is ready. Check out the video of the ABR Pro Pant being used as a tow rope between two off-road vehicles. On a side note anyone who says "overloading" is a yuppie nerd. The correct terms to use are "off-roading" or "camping".

Features:
D-ring
Reinforced seat & knees
Internal knee pad ready
Spill & stain resistant
Fade resistant tool strap
Modern, comfortable straight fit
9 pockets in all the right places
71% Polyester / 29% Cotton FlexLite ripstop, 5.6 oz
Teflon finish resists water, dirt, and stains for longer wear
Light weight FlexLite fabric for maximum performance and movement
Imported
Here are some reviews from the 5.11 site for this pant:
Sean Said:
Comfortable and flexible, they seem very durable considering their light weight. Fit is a bit snug for me around the thighs and rear, I had to go a size up to stay modest. I'm 6'2, 220, normally a 36/34. The 38/34 in the ABR fits perfect. After wearing utilities and MARPAT cammies, these feel a little thin almost flimsy, but I've only had them for about 30 days. Other reviews say they're pretty durable, so I'm pretty confident. Other than the seemingly light material, my only other gripe is the noise. Like others have mentioned, these are not quiet pants.
Terry Said:
I needed a new pair of 5.11 Tactical pants for a new site that I'm doing high risk security at. I came across the ABR pros in Ranger green at the 5.11 Store in Rockville MD And I must say, these pant are way comfortable. Way more comfortable than the Tac Pros. I love the redesign, the feel and range of motion these pants give! I will be purchasing two additional pair very soon!
Also check out these 5.11 best sellers:
5.11 Tactical 74369 Stryke Pant